In this blog, find the complete travel guide of Thailand to make your Thailand trip memorable and enjoyable.
Thailand is a land of majestic beauty with ancient architecture and numerous eye-catching temples, which quickly pulls tourists around the world into Thai's wonderland. This country offers pristine beaches, different shades of water and the best photogenic views, which easily makes your Thailand trip into a dreamy holiday destination.
Hence it often becomes confusing where to start from to make the best of your Thailand trip; scroll through this blog as we will provide you with a complete Thailand travel guide for your next trip.
When to Visit Thailand?
Thailand is a country that offers a west versus east climate. The west coast is favourable primarily during Winter when you can dive or snorkel to the fullest. At the same time, the east coast is calm throughout the year with everything you can plan for your trip. And the rainfall is often lower during January and February while highest in November. However, the best time to pick a trip to Thailand is between November and early April because of the beautiful scenic beauty offered at the west beach. Moreover, June is better for people who wants to beat the crowd and enjoy Thai Cultural Highlights with the excellent weather condition.

How to Travel to Thailand?
For anyone travelling to Thailand from Bangladesh, the best convenient way is to take a direct flight to Thailand. Thai Airways, US Bangla, Biman Bangladesh Airlines, and a few other airlines operate regular flights to Thailand from Dhaka, Bangladesh. It takes around three hours to reach Thailand from Hazrat Shahjalal International Airport. You can book standard or business class seats and travel to Thailand based on your preference.
What to explore in Thailand?
Thailand offers a friendly environment for solo travellers to the family ones with its food obsession, historical events and cultural diversity. Thailand has it all, from tropical beaches to its glittering temples, often confusing where to start. For the convenience of visiting Thailand, we have piled up the list to let you make the best of your Thailand trip.
Beaches in Thailand

Thailand is a tropical gateway that features a luxurious long coastline (basically two) as well as 1400 jungle-topped islands that are anchored in azure waters; it is fit for tourists of all ages. With such a playground and plenty of things, the sand meets the coastline to the sea.
First on the list is the Maya Bay on Koh Phi Phi, surrounded by concrete limestone monoliths and one of Thailand's most beautiful islands. The steep hills surrounding the water will ensure a private paradise feeling every time you visit through longtail boats.
Nai Harm Beach is another most popular beach in Thailand, located in Phuket. This beach is famous for its white sandy beaches, crystal clear water and waves favourable for swimming with friends and family.
Another majestic beach is Railay Beach, which you can easily access by longtail boat as it sits on a small peninsula in Thailand. On one part, the soft white sand coastline ensures an experience, while the other part is surrounded by cliffs and caves, jungle landscapes, lagoon-like swimming areas, and limestone monoliths.
On the small island of Koh Phangan, you will find nearly 30 beaches which makes Haad Rin Beach one of the most popular ones. This beach is an active scenery with spontaneous games like volleyball, water sports like jet ski and even kayaking. Plus, the blue water that stretches along with the white beach and coconut tree and cliffs surroundings make this beach a perfect picturesque beach day.
And last but not least is Pattaya Beach, the most famous beach in Pattaya. This beach is the centre of marine activities for people who love sunbathing and water sports. You will get an abundance of souvenir shops, restaurants and even hotels along the 3 km beach.
Temples in Thailand
There are plenty of colourful, and beautiful Buddhist sanctuaries and temples throughout Thailand. The beauty of these temples has grabbed the attention of tourists around the globe. Therefore, those who love travelling explore the beauty of the temples. We have piled up a list of the most popular and most beautiful wats around Thailand from tons of temples available, which is worth your visit.
Wat Arun- This temple is also known as the "Temple of Dawn" that sits Chao Phraya Rivers bank and offers a stunning sight in the early morning when the sun reflects on its Chinese porcelain fashioned walls.
Wat Rong Khun, Chiang Rai- This temple, popularly known as the White Temple, is currently an art gallery adopted by the local artists, and you can access it by crossing a bridge over the pond. Plus, some other buildings are designed for meditation and training rooms.


Blue Temple, Chiang Rai- English speaking visitors find the Blue Temple or the "Templo Azul" the best just outside the city. This temple is Chiang Rai's newest and most stunning wats and most visited by tourists.
Wat Pho, Bangkok is the temple known as the Temple of the Reclining Buddha. This temple is one of the largest temples in Bangkok that covers an area of 80,000 square metres. Most tourists are attracted to the giant reclining budda as it's a 46 metre long and 15-metre tall statue covered in gold leaf. Out of the entire sculpture, Buddha's feet is the most attractive one that grabs everyone's attention.

A few temples worth visiting are the Tiger Cave Temple, Krabi; Silver Temple, Chaing Mai and even Wat Mahathat, Ayuttaya etc.

What to do in Thailand?
Apart from relaxing in your cosy room and exploring the beach, there are tons of things to do in Thailand. We have piled up a list of things to do in Thailand for your convenience.
Island Hopping: The most exciting and fun activity in Thailand is Island Hopping. You can do 300 islands in Thailand, and you can select the islands on your bucket list to hop to and have fun.
Ride a Tuk-Tuk: Thailands' must have riding experience is in a TUK TUK. They are more common than taxis, and as per your negotiation skills, you can rent them for less. Hoping around the city, especially at night, you can unlock tons of Bangkok's attractions. 
Visit a Floating Market: You can quickly jump in a boat and embrace the feel of a Venice Canal while exploring the floating markets. The most famous floating market is the Damnoen Saduak which is 60 miles away from the city. Plus, the best floating market in Bangkok is the Khlong Lat Mayom which will let you experience fresh fruits and cooked foods at a low price.
Chiang Mai Ladyboy Show: While walking around Thailand, you will get one of the best experiences by exploring the Chiang Mai ladyboy show, which is nightly in the city's night market. It is not a typical ping-pong bar; instead, this is a show by entertainers.
Scuba Diving and Parasailing: Thailand offers some of the best diving and parasailing in the world. With professionals on board, you can explore underwater life and explore nature from above nature with your friends and family. You can also go deep-sea diving and take your driving experience to the next level.
Explore Night Market: In all major cities in Thailand, you will find night markets to grab dinner, check out exclusive deals for your shopping list, listen to live music and do much more. In Chiang Mai, you will find some of the best night markets, especially on Saturday and Sunday nights.
Thai Message: Last but not least, you should try out Thai Massage. This is a lifetime experience that will ensure relaxation in your body and mind.
Where to Stay in Thailand?
The best Thailand hotel or resort choice solely depends on which part of Thailand you are planning to explore and enjoy. The best hack for getting the best hotels or resorts is to book online long before you come to Thailand. Among the available options, the best Thailand places to stay are Phuket hotels, Pattaya resorts, etc.
Despite its popularity with budget and backpacker travellers, Thailand holds some of the world's most ultra-luxurious resorts, whether beach enclaves, urban hotels, or jungle retreats. Some of them are Phulay Bay, a Ritz-Carlton Reserve – Krabi, The Siam – Bangkok, Keemala – Phuket, Anantara Chiang Mai Resort, Chiang Mai, Thailand, Amanpuri, Phuket, Thailand; Four Seasons Resort Koh Samui, Thailand; Le Méridien Phuket Beach Resort, Phuket, Thailand; Aleenta Phuket Resort & Spa, Phuket, Thailand; Rosewood Phuket, Phuket, Thailand; Pimalai Resort & Spa, Koh Lanta, Thailand etc.
Apart from a high-end luxury resort, you can quickly get Thailand cheap hotel, apartment rentals, or even a villa for a more extended period of staying in Thailand. And will eventually not cost a lot of money and make your Thailand trip more affordable and enjoyable. 

What to Eat in Thailand?

Thai cuisines are the best element of any trip to Thailand and are famous worldwide because of their extraordinary flavours and aromas. A tour through the city's alleyways frequently leads to a stop at a food stall, where you may sample skewered meats, fried rice, noodles, and spicy soups for relatively low costs. Whether you visit any top of the line restaurants or explore the streets at night, you would like to keep the following ones on the top of your Thailand food list.
Tom Yum Goong (spicy shrimp soup) contains straw mushrooms with succulent river shrimps, and this sour and spicy soup is the best paired with steamed white rice.
Pad Thai (Thai-style Fried Noodles) is considered one of Thailand's most recognisable dishes. Inside the dish, you will find seafood – especially fresh shrimp, crab or squid. In some places, you will be served with chicken, beef or pork based on your preference.
Yum Nua (spicy beef salad) is a refreshing Thai salad with tender beef strips. Guay Teow (Noodle Soup) is arguably one of the most popular Thai dishes and can be found almost everywhere. Tom Kha Gai (Chicken in Coconut Soup) is also unique in that it typically comes with lots of creamy coconut milk, creating a rich sweet soup.
Thai Mango Sticky Rice is commonly found as street food. Sweet, creamy, salty, and tangy — it's a decadent dessert that encompasses anyone's taste buds.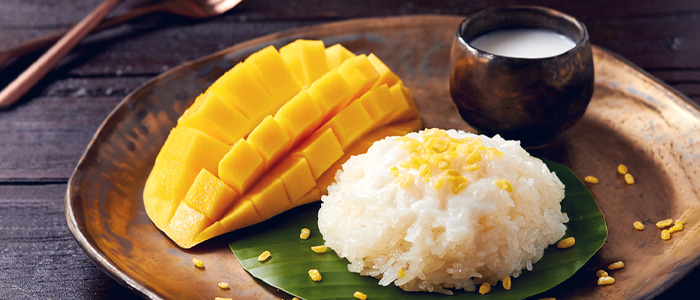 You may also try Som tum ( Spicy Green Papaya Salad ), Tom Kha Kai (chicken in coconut soup), Gaeng Daeng (red curry) etc.
Seafood lovers will certainly love Thailand as they will find plenty of Thai seafood cuisines to explore. Play Pao (Salt-Crusted Fish) is a bit more of a new culinary experience for tourists. Play Pao is usually made with a red tilapia or a snakehead fish. Then Goong Pao (grilled prawns) can be fascinating, especially when travelling to Ayutthaya. It would be best to try out Phoo Pad Phong Karee, Goong Ob Woon Sen, Oyster Omelette - Hoy Tod, Yum Talay, Mackerel with Red Curry, Pla Meuk Phad Kai Kem etc.
Planning for Top Destinations in Thailand?
So this was our Thailand Tourist guide which will help plan your Thailand trip and make it a memorable experience with your friends and family. ShareTrip offers customised Thailand tour packages from Bangladesh as well and you can get your customised trips.
Visit our website, www.sharetrip.net or ShareTrip App and get your vacation prepared in a few steps. Just mail at vacation@sharetrip.net or call +8809617617617 to get in touch with us.